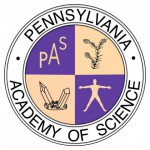 Since 1924, we have been educating and supporting scientists throughout Pennsylvania by striving to promote science, technology, education and the diverse interests of our members. We are the Pennsylvania's vital and valuable resource for Pennsylvania science professionals, faculty and students.
The Pennsylvania Academy of Science seeks to:
Advance the pursuit and application of science within the Commonwealth, both in academic and industrial settings.
Enhance the professional development of its members.
Create forums for professional dialogue among junior and senior scientists at all academic levels.
Promote scientific research, presentation and discussion among its members and the public at large.
Support educational initiatives devoted to the development of scientific skills and knowledge.
News and Updates
PAS awards 14 students with Undergraduate and Research Grants
The PAS Undergraduate and Graduate Research Grants Program has awarded grants to fourteen students from ten different Pennsylvania colleges and universities.
The Journal of the Pennsylvania Academy of Science Vol.89 issue 1 is published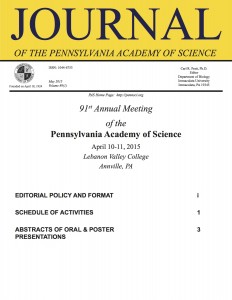 The Pennsylvania Academy of Sciences has published Volume 89, issue 1 of the Journal of the Pennsylvania Academy of Science containing the Schedule and Abstracts from the 91st Annual Meeting of the PAS. Download it now.

Save the Date! 92nd Annual Meeting
Join us at the  92nd Annual Meeting of the Pennsylvania Academy of Science to be held on April 1-3, 2016 at Delaware Valley University.